Ero Un Santo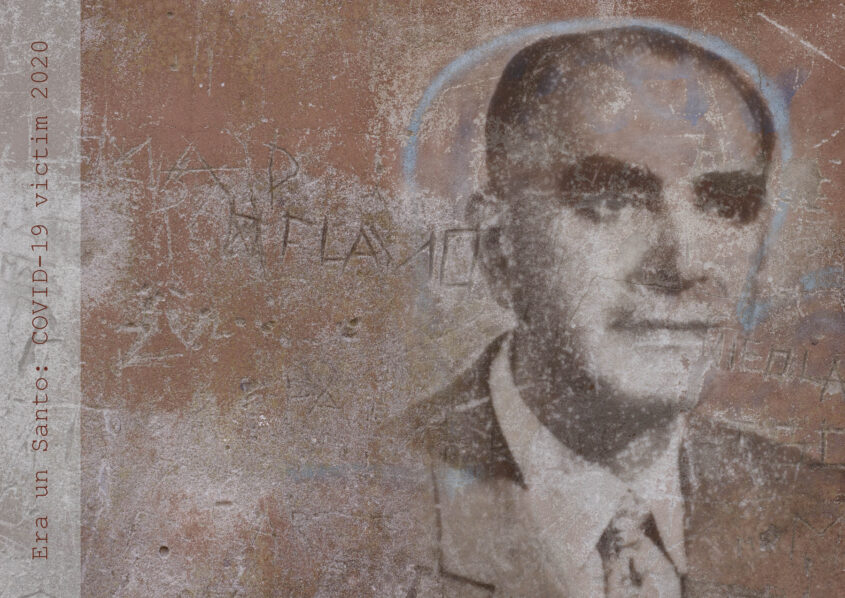 Artista
Alan Rogers
Titolo
Ero Un Santo
Tecnica
Illustrazione digitale (collage)
Biografia
Alan si è formato come pittore presso l'Exeter College of Art and Design e la Glasgow School of Art. È stato educatore artistico presso l'Università del Galles, ha lavorato, a livello nazionale e internazionale in 11 paesi come artist-in-residence, curatore, direttore artistico e non solo.
L'opera
Con questo lavoro Alan invita a riflettere sull'Essenziale più puro: l'esistenza stessa. Rendendo omaggio alle vittime del COVID-19, usando immagini di morti, che in queste opere appaiono evanescenti. Alan, tramite l'uso di foto originali, lavorate con la tecnica del collage e poi ridisegnate in digitale, vuole rappresentare la transitorietà della vita e la persistenza del ricordo. C'è qualcosa nella sinergia poetica che viene a crearsi, tra quei ricordi sbiaditi e gli strati complessi della storia e delle persone. Le strade, così come i muri, impregnati di vite, di volti. Spugne del tempo che passa e che trattengono il passato, facendosi presente.
Il suo lavoro si fa invito a non dimenticare che dietro ai numeri e ai termini asettici e distanti che spesso abbiamo sentito pronunciare o letto in questo ultimo anno, come "indice rt" o "focolaio", ci sono volti di persone, vite, anime, scivolate via e che sono ormai diventate un ricordo e trasferitesi nella memoria.